Sylvia Park
RISE – SHANNON NOVAK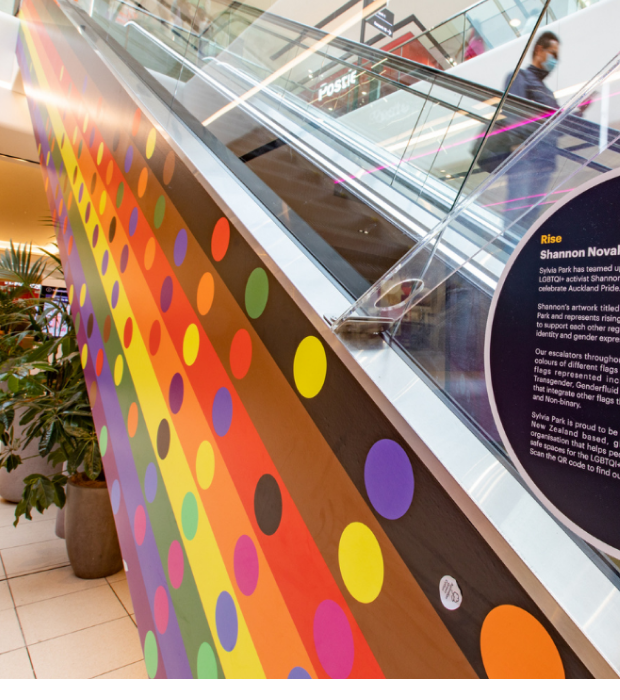 The Work
Shannon's artwork titled "Rise", has been created for Sylvia Park and represents rising up as a wider community, together, to support each other regardless of sexual orientation, gender identity and gender expression.
Our escalators throughout the centre come to life with the colours of different flags from the LGBTQI+ community. The flags represented include Pride, Takatapui, BIPOC, Transgender, Genderfluid and Lesbian – with coloured spots that integrate other flags that may be new to you like Bisexual and Non-binary.
Location:
The Artist
Shannon Novak lives and works in Auckland, New Zealand.
Shannon Novak's work aims to reduce anxiety, depression, and suicide rates for the LGBTQI+ community worldwide. He seeks to dismantle heteronormative structures and systems and build spaces that acknowledge, celebrate, and support diversity and inclusion in sexual orientation, romantic orientation, gender identity, gender expression, and sex characteristics (SROGIESC+). This manifests as socially engaged and collaborative painting, photography, installation, sculpture, and curatorial practice that may extend beyond traditional exhibition spaces. The work explores light and dark in the past, present, and future, but ultimately seeks to grow hope for a better world where the LGBTQI+ community can live without fear. Central to Novak's collaborative process is an attitude of respect and care. Key areas of focus in his work include LGBTQI+ activism, centering LGBTQI+ BIPOC (Black, Indigenous, and People of Colour) communities, and illuminating, preserving, and sharing LGBTQI+ history.
http://www.shannonnovak.com/
@shannon_novak_