Sylvia Park
Entree from the Earth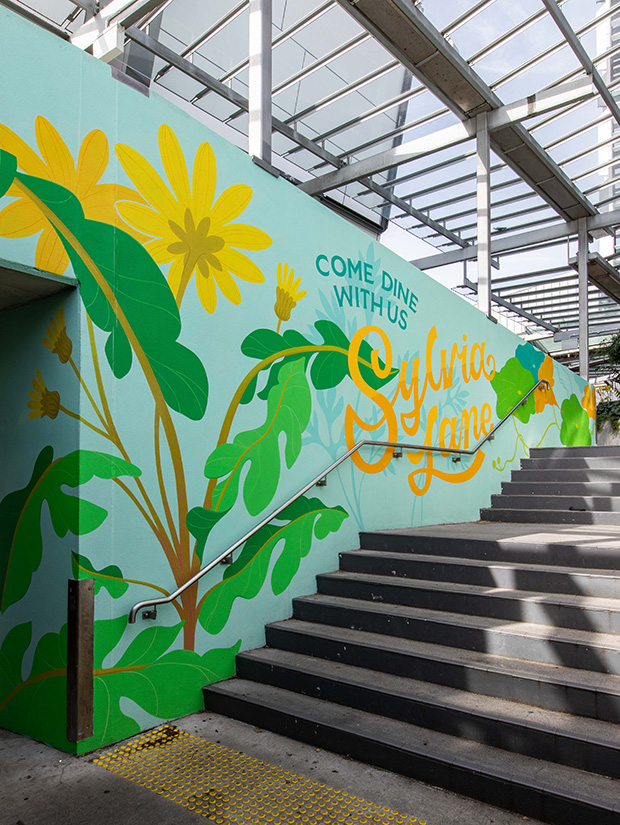 THE WORK
The artwork for Sylvia Lane wraps around 2 sides of a wall, and whether patrons enter from downstairs or the car park above they're welcomed by oversized warm-toned plant life upon arrival.
Because this mural is experienced from the ground on up, Sunshine has chosen species that grow down low: Puha, Nasturtium, Kawakawa, Sage, and Camomile.
This space is the entrance to Sylvia Lane dining area, therefore each species is edible (or drinkable!) - Some are native, some wildly growing, and some are even considered medicinal.
THE ARTIST
Kelly Sunshine is a lettering artist, muralist, & illustrator from New Zealand with a big appreciation for the magical, reciprocal relationships between Mama Earth's inhabitants. Her creative style is characterised by bright and retro-fresh colour palettes and curvaceous forms, meticulously handcrafted lettering, and illustrative elements of flora and fauna.


Kelly does not engage in conversation before consuming coffee in the mornings but is henceforth a social creature. Things that make her happy include: Dogs, sunshine, seedlings, the sound of tropical rain, turquoise oceans, and travel.