Sylvia Park
GIANT KNUCKLEBONES – SIMON LEWIS WARDS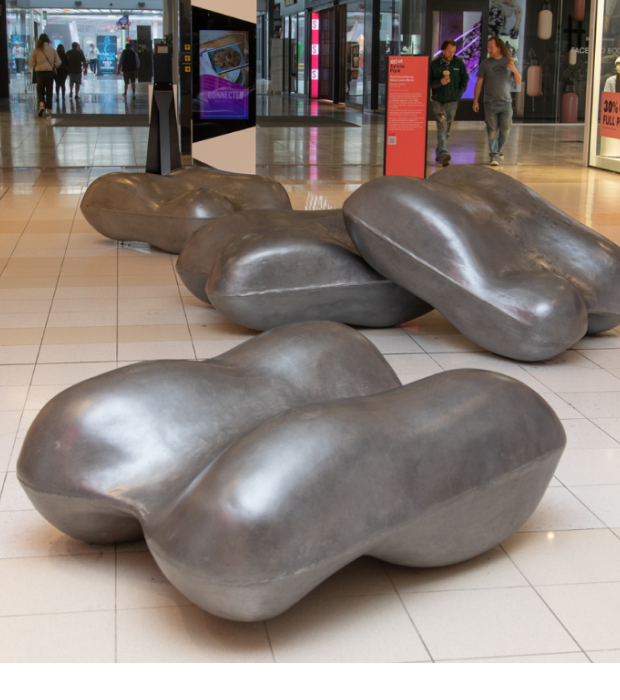 The Work
With the Giant Knucklebones, Lewis Wards wanted to explore how scale influences the viewing experience. With each concrete knucklebone weighing in over 300kg, the enormity of the piece shrinks the viewer to childlike proportions, magnifying that feeling of nostalgia.
The piece plays homage to one of civilisations' oldest games, and a beautiful form that has endured through centuries of change.
Being such a tactile game, it was important that the public had freedom to engage with this artwork in ways that weren't purely visual. The impulse to interact with these pieces physically is overwhelming, and viewers need not fight that urge. Get amongst it.
Location:
The Artist
Simon Lewis Wards is a sculptor based in Auckland, New Zealand. He works predominantly in ceramics and cast glass and is best known for his playful interpretations of iconic New Zealand candy. Wards has developed a body of work that seeks to inspire a sense of childlike excitement, oscillating between nostalgia and pop-culture, and often playing with scale to enhance the viewing experience. Wards' first foray into glass was in his teens, when he left high school and started working with a friend's father who was an early pioneer of the glass art movement in NZ. The idea for Wards' first sculpture came from the glass itself, when he noticed how much the raw material looked like a glistening jube lolly. Over the years he has developed his skill set to include glass casting, ceramics, cast concrete and stained-glass techniques. He has set up a studio in a repurposed vineyard high in the Waitakere ranges, where he works from today.
@simonlewiswards